Specials / Pre-Owned
Thank you for your interest in our Specials and Pre-Owned Equipment. From time to time we have new stock demonstration machines, slightly used equipment, and even completely rebuilt/refurbished machines. Please check back often to see what specials we have available. These specials are on a first come first serve basis and may not be available due to prior sale.
Please feel free to
contact us
with any questions you may have.
---
SNAP DM200 - $49,000
Save over $5,000
Download the Flyer
SNAP DM200 measures complex parts instantly without programming. Place the part and press the GO button.
Telecentric optics ensure accurate part measurements in shop conditions.
AutoID recognizes any known part in the field of view.
Zoom AnywhereTM technology lets you zoom in to measure details anywhere in the viewing area.
Offers extended measuring range and optional dual magnification optics for large and small feature measurements.
---
Rebuilt Hydromat HW 25/12
For customers in the Crotts & Saunders distribution territory we have (2) Hydromat HW25-12 LEGACY machines rebuilt, upgraded, and reconditioned to excellent condition available for sale!
FULL WARRANTY INCLUDED!
Features Include:
Machine base rebuild & upgrade
Complete table rebuild
All new wiring including new electrical cabinet and touch screen pendant control
New machine platform
Reconditioned 12' magazine bar loader
Reconditioned chip conveyor and coolant system
New powder coat paint
Units available upon request
---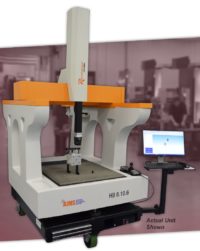 Revolution 8.10.6 CMM
Save over $16,000
Download the Flyer
Shop Floor Measurements.
5-Axis Probing for high throughput.
Large Frame for a variety of parts.
Full CAD programming with Shop Floor Interface.
Showroom Special caries a full one year Manufactures Warranty.
---
Refurbished Mitutoyo Crysta 7.10.6 CMM
This system has been fully evaluated mechanically and updated with new software.  It is a CMM fully programmable with a PH10MQ / TP-20.  This system has a fully motorized indexable head.  The software is fully programmable from CAD files. 
This system is sold - please contact us if you are interested in a used CMM.
---
Nikon VMZ-R High Accuracy Vision System
Nikon's New VMZ-R series brings high speed performance to the Vision Inspection Industry. This third Generation system has a 15:1 telecentric zoom lens and class leading accuracy. Click here for more information.
---
Refurbished OQ14-B Comparator
This unit is sold - but we are refurbishing systems all the time.  Please contact us if you have a particular need.